Ellicom and OVA officially announce their participation in the ENCQOR 5G project in order to seize the immense potential represented by 5G technology
Ellicom, a leader in training and learning solutions, and OVA, a Quebec company working in the field of immersive technologies, announce a major collaboration with ENCQOR 5G (Evolution of Networked Services through a Corridor in Québec and Ontario for Research and Innovation), an initiative offering SMEs the opportunity to test 5G technology before its widespread availability in Canada.
Since January 25th, 2020, OVA's flagship product, StellarX™, has been available to the public via the Steam Store. A powerful AI-enabled tool that allows for the co-creation of virtual, augmented, and mixed reality environments, which the OVA team has been working hard on for the past six years. In fact, the team also recently unveiled its new brand image and revamped website.
Through its StellarX platform, OVA seeks to democratize the use of immersive technologies across many fields, including Education. However, the current generation of networks imposes several limitations on a technical level, thus greatly affecting the accessibility and the cooperative possibilities. With support of ENCQOR 5G, Ellicom and OVA, in collaboration with LaSalle College, UMR-Su, and CDRIN, are carrying out an experiment aimed at testing the application of 5G technology in the context of an immersive and collaborative scenario designed with StellarX. Given its reliability, ultra-fast speed, mass connectivity, as well as low latency rates, 5G constitutes an ideal solution to the aforementioned issues. The success of this experiment could open the door to global collaborations between teachers, students, and specialists.
The participation of Ellicom and OVA in the ENCQOR 5G project will allow both partners to be one of the first to test 5G technology in an educational context with access to the infrastructures and funding necessary to carry out such tests. In the coming months, many barriers will undoubtedly be broken down by the union of the two technologies.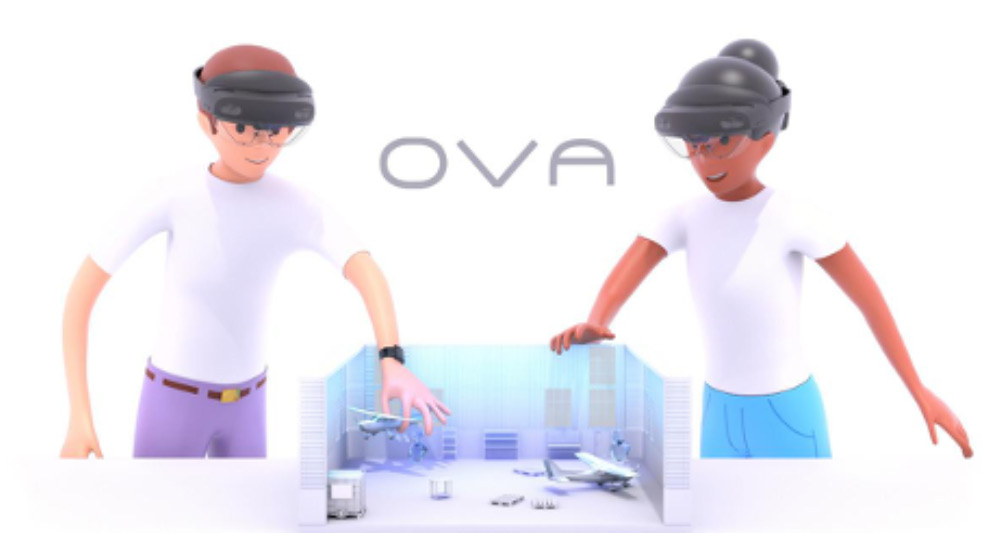 "The involvement of OVA in the ENCQOR 5G program is a typical illustration of a desired technological convergence. The combination of 5G and AR / VR allows tremendous gains in performance and latency and delivers an important industrial promise. We are delighted, within the ENCQOR 5G team, that our infrastructures contribute to the technological innovation of Quebec Inc"
Maxime Clerk
Principal Director – Prompt
ENCQOR  5G program manager – Quebec
About
OVA is committed to empowering businesses with StellarX, our immersive technology. Enabled by artificial intelligence, our creation platform allows non-technical individuals to bring to life virtual, augmented, and mixed reality experiences. Use StellarX to prototype designs, onboard new employees, train in life-like environments, as well as collaborate in real-time with anyone, anywhere, and at any time! As a team, we strive to create ethical and accessible experiences that have a real-world impact. For more information about OVA and StellarX visit, ova.ai.
This project is made possible by the ENCQOR 5G initiative, funded by the governments of Canada, Quebec and Ontario as well as leading industry players Ericsson, Ciena, Thales, CGI and IBM. ENCQOR is coordinated by Innovation ENCQOR, and delivered in Ontario by OCE and in Quebec by Prompt. The program has a mandate to bring together SMEs and academia to contribute to the advancement of research, innovation and demonstration of applications through a pre-commercial 5G test bed.