Accessing the iPaaS Innovation Platform/Digital Innovation Hubs
Digital Innovation Hub sites will provide open access to state-of-the-art 5G infrastructure and technology, allowing pre-commercial development, testing and demonstration of the newest products and services in addition to a collaborative environment to support the sharing of ideas, concepts, and innovation.
By accessing the iPaaS innovation platform, you are on your way to experiencing the full potential of a 5G-powered network.
iPaaS Overview – Services Enabling Solutions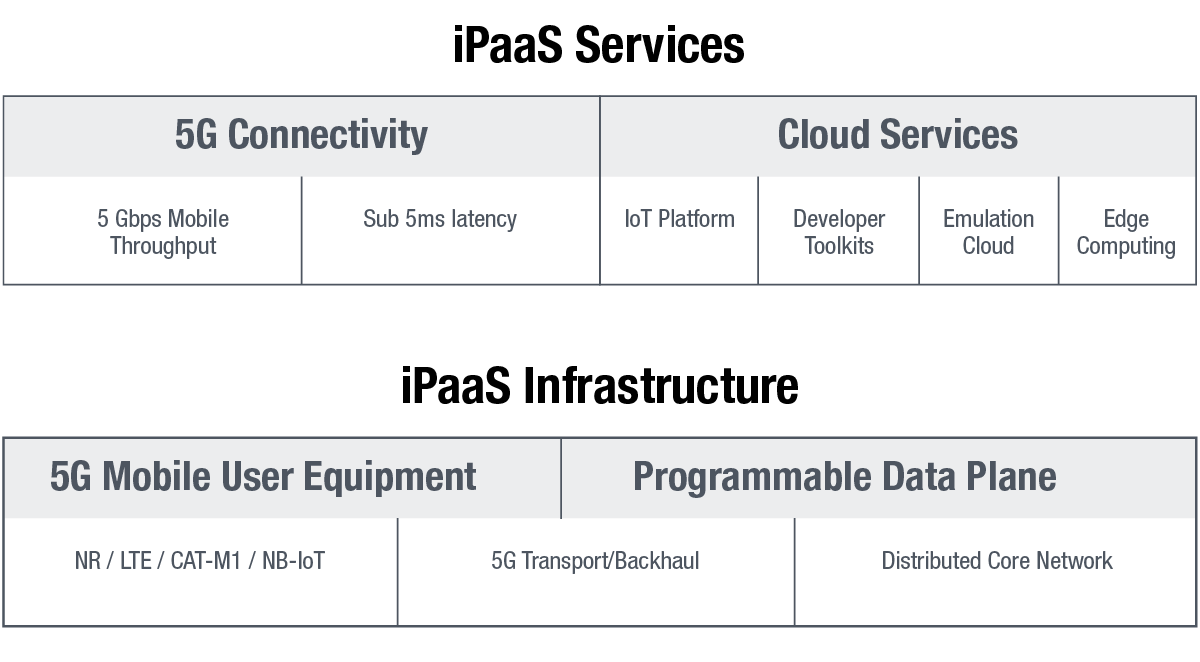 * features will be added throughout the project
5 Gbps Mobile Throughput: This service provides additional capabilities in term of speed for download and upload of data to and from the mobile terminal that provides more speed than 4G.
Sub 5ms latency: This is the response time to sent to the network and the receive back. It will enable trying out of command and control applications that requires quick response time.
5G Mobile User Equipment: Will be Android-based Qualcomm terminals that will be operating at 3,5 GHz and will have available all the Android applications usually seen on 4G Terminals.
NR / LTE / CAT-M1 / NB-IoT: NR stands for new radio, which is the radio that will be operating at new 5G frequency spectrums. LTE is a 4G radio that can operate with a 5G core network. CAT-M1 and narrow band IoT are radio implementation used for Internet of Things and sensor communications.
IoT Platform: Is a cloud based horizontal cross-industry solution. It provides connectivity management, device and data management, orchestration, integration and automation, analytics processing and data storage. Finally a marketplace for API exposure, administration capabilities as well as means for partner and developer on-boarding.
Distributed Core Network: This refers to the change in network architecture required in 5G. Today's networks have centralized core networks and in 5G standards certain network functions will be distributed throughout the network and closer to the edges of the network moving away from a centralize core to a distributed core. This is the only way some of the key performance parameters can be reached such as the low and ultralow network latency.
Edge Computing: The Edge computing is a compute/storage platform at the network aggregation point. The platform will allow SME to move the execution close to the 5G RAN for a better latency. This platform is based on open-access and open orchestration stack.
Developer Toolkits: ENCQOR provides a set of API's and their associated SDK's. IoT Platform SDK, Emulation Cloud SDK and Edge compute SDK
Programmable Data plane: The dawn of software defined networking (SDN) ushered in an era of disaggregation of the networking control plane from the data plane; the data plane can be controlled and suited for the need of the application. The application can now change the ways the switches handle their packets after they are deployed
5G Transport/backhaul: The evolution toward 5G mobile networks is driven by a multitude of use cases from mobile broadband to ultra low latency. The role of the 5G transport/backhaul network is to connect all the pieces from the Radio Access Network to the mobile core, service network and clouds (edge, access and public)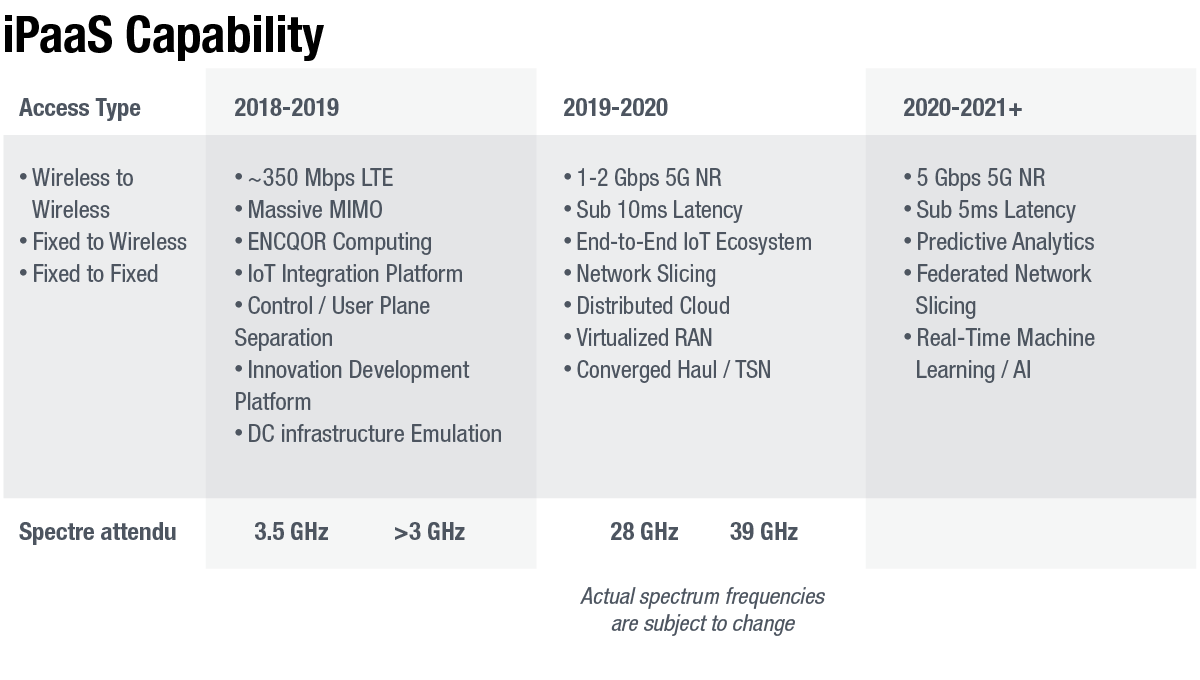 * features will be added throughout the project and timeline may vary
Please click on the button below to access the iPaaS request form.
Thank you for your interest in ENCQOR. We look forward to innovating alongside you!
You have questions or would like to know more?