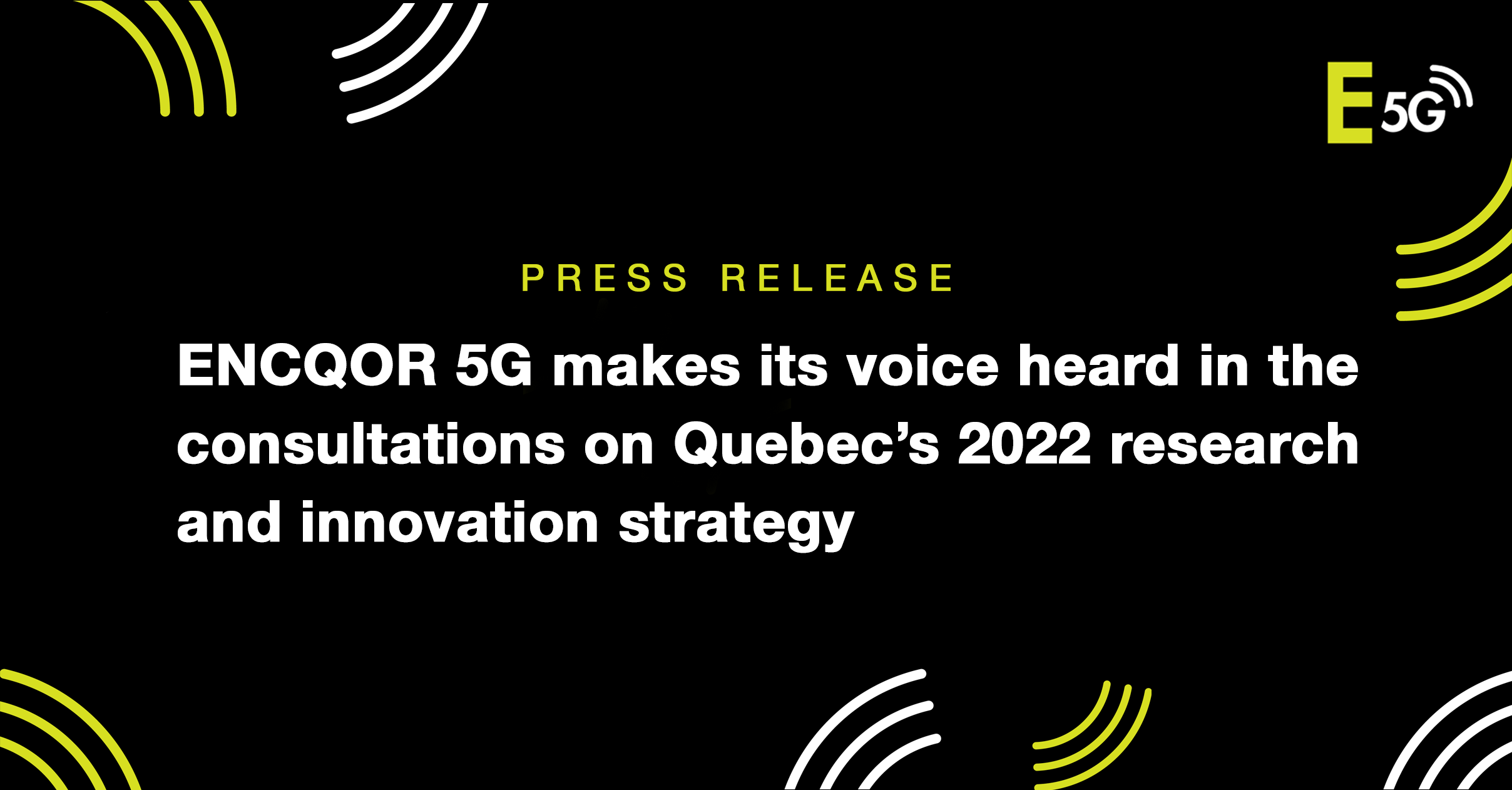 As part of the consultations on the Quebec Ministry of Economy and Innovation's 2022 Research and Innovation Strategy, ENCQOR 5G recently submitted a brief to highlight the importance of 5G technologies for Quebec's (and Canada's) long-term prosperity, economic competitiveness, and the development of SMEs.
As we indicated in our brief, Quebec and Ontario have already made significant progress over the past few years in 5G development and innovation thanks to the work accomplished by ENCQOR and its committed partners. ENCQOR is based on a collaborative model that allows for a powerful combination of forces: large companies (notably our five anchor partners: CGI, Ciena, Ericsson, IBM and Thales), the academic community and SMEs. More than 600 SMEs in Quebec and Ontario, operating in a wide variety of sectors, have been involved in ENCQOR to date. This is a remarkable level of mobilisation with few comparable cases in the world.
5G : A Technology with Large Impact
In our brief, we recalled how 5G is set to transform several sectors of the economy. This includes not only the information and communications technology sector, but also several areas of the traditional economy, such as manufacturing, transportation, agriculture and mining. Applications relating to health, education and smart cities will also greatly improve the services offered to the population and thus the quality of life of citizens.
In addition, 5G will have many cross-cutting technological impacts, particularly in artificial intelligence, quantum, cybersecurity, cloud computing and the Internet of Things. To sum up, we could say that 5G is at the very heart of the digital transformation of businesses, public services and the economy.
In the face of today's technological challenges, we must continue to invest in all stages of the innovation chain, from basic research to commercialisation. The same is true for 5G, a technology that must be a key and structuring element of the future Quebec Research and Innovation Strategy. And what is the case for Quebec is indeed the case for the rest of the country.
P.S. You may consult the brief by ENCQOR 5G in the PDF document (in French only): https://quebec.encqor.ca/wp-content/uploads/2021/05/Mémoire-ENCQOR-SQRI-2022-final15.pdf 
Pierre Boucher
General Manager
ENCQOR 5G
info@encqor.ca