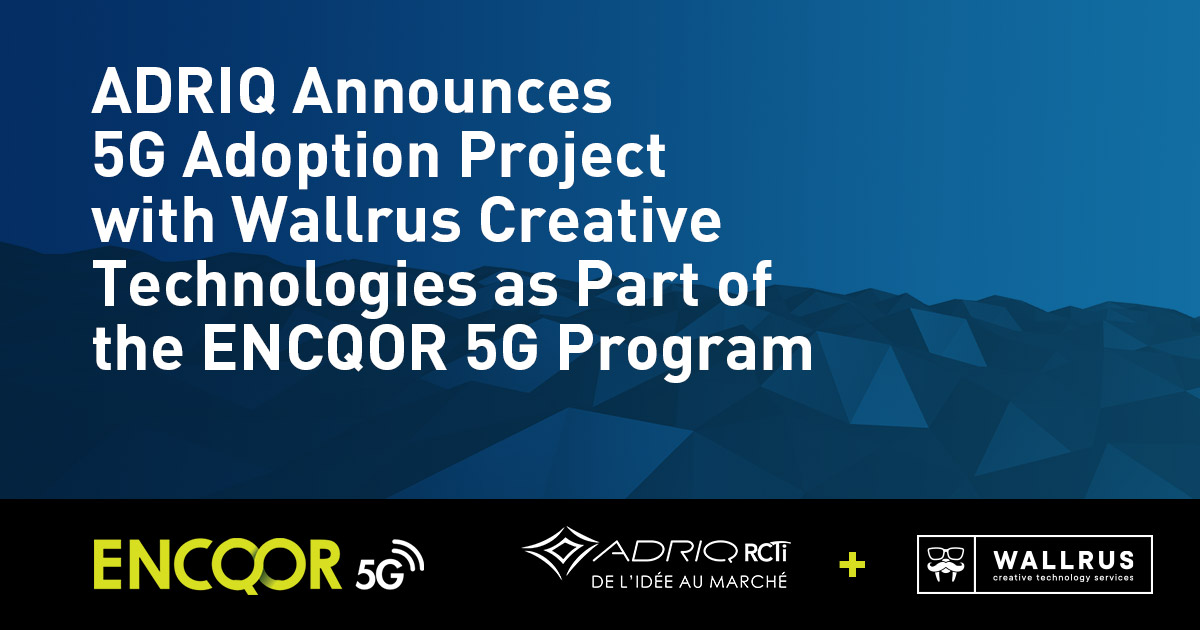 Montreal, February 25, 2021 – The Association pour le développement de la recherche et de l'innovation du Québec (ADRIQ) is proud to announce its 5G technology adoption project with Wallrus Creative Technologies. As a partner in the ENCQOR 5G program, ADRIQ assists Quebec companies from all sectors in the adoption and integration of 5G technology. The application developed by Wallrus Creative Technologies is one such project.
"Our support for adoption and integration plays a key role in the development of 5G in Quebec by enabling companies of all sizes to take advantage of the benefits offered by this technology, which is set to become increasingly important in all sectors of the economy," said Pascal Monette, President and CEO of ADRIQ.
"ADRIQ is pleased to have been able to assist Wallrus Creative Technologies and its six partners in the media and entertainment ecosystem within the ENCQOR 5G adoption program. They see undeniable advantages in using 5G technology to develop and deliver innovative and high-performance solutions and products," added Mr. Monette.
Companies of all sizes can be supported in the adoption and integration of 5G technology with the support of ADRIQ. In partnership with ENCQOR 5G in Quebec, ADRIQ facilitates the funding of projects aimed at designing, preparing and testing use cases with end-users to demonstrate targeted uses, whether for products, processes or services using 5G technology.
Wallrus Creative Technologies benefited from this support and was able to integrate 5G technology into its entertainment product "The Secret Life of Monsters", an interactive experience at the crossroads of video gaming and public art installation using 5G to create a multi-channel interactive experience combining interaction and Mixed Reality technologies capable of supporting up to 200 participants simultaneously in a geo-localized area.
According to Jean-Philippe Desjardins, Co-founder of Wallrus Creative Technologies: "The long term vision with the Mixed Reality/5G technology framework outside of 'The Secret Life of Monsters' is to commercialize the platform on a licensing model that could eventually be applied to different business sectors such as tourism, amusement parks & experiential marketing, training, and many more.
Companies wishing to obtain more information on ENCQOR 5G technology adoption and integration programs can contact ADRIQ directly at the following coordinates: Michèle Sawchuck michele.sawchuck@adriq.com or Quentin Hibon quentin.hibon@adriq.com, or visit the ENCQOR 5G website.
About ADRIQ
The Association pour le développement de la recherche et de l'innovation du Québec (ADRIQ) and its Réseau conseil en technologie et en innovation (RCTi) lead an ecosystem of companies and institutions dedicated to research and innovation. It is a unique and influential group that fosters partnerships and collaborations to accelerate commercialization. ADRIQ addresses key concerns and drives opportunities for these research and innovation players to create the right conditions for their success.
About ENCQOR 5G
The ENCQOR 5G initiative is funded by the governments of Canada, Quebec and Ontario, as well as key industry players: Ericsson, Ciena, Thales, CGI and IBM. ENCQOR 5G is coordinated by ENCQOR Innovation. It is implemented in Ontario by OCE and in Quebec by Innovation ENCQOR, Prompt and ADRIQ. The program's mandate is to bring together SMEs and academia to contribute to the advancement of research, innovation and application demonstration through a 5G pre-commercial testbed. ENCQOR 5G has 5 innovation centers located in Ontario and Quebec offering a 5G platform where SMEs can develop and test new solutions.
About Wallrus Creative Technologies
We are redefining engagement driven by experience, real-time data collection, and technological innovation. Wallrus Technological Creativity develops projects at the intersection of art, innovation, and impact marketing for clients in the private, public, and cultural sectors such as AT&T, Bell, Evenko, National Geographic, and others. Founded in 2015 with the launch of the Wallrus social display software rapidly deployed in more than 30,000 events worldwide, the company has developed a deep expertise in public engagement and mobile technologies, enabling it today to develop radically innovative commercial and artistic projects for national and international clients.
-30-
Sources: ADRIQ, ENCQOR 5G and Wallrus Creative Technologies
For information :
ADRIQ
Carl Baillargeon
Director of  Communications and Marketing, ADRIQ-RCTi
carl.baillargeon@adriq.com
514-337-3001, ext. 108
ENCQOR 5G
Frédéric Tremblay
frederic@ryanap.com
514- 874-1909
Wallrus Creative Technologies
Jean-Philipe Desjardins
Co-Founder
jpdesjardins@the-wallrus.com
514-969-6378
www.wallrus.tech